MAJOR AREAS OF ACTIVITIES
AGRICULTURE & BIO-TECHNOLOGY
At Prithiva Gram Panchayat of Guma Village, Habra, North 24-Parganas and at Modarat Village, Baruipur, South 24-Parganas two units have been set up on food processing and food preservation and nearly 180 women were trained. The unit at Baruipir is still running smoothly.
Regular trainings on Entrepreneurship Development in Food Preservation and Processing are carried out.
Survey on Medicinal Plant and Baul Medicinal Practices at Murshidabad district under DST, GOI and also in Medinipur district under W.B. State Council for Science & Technology was
Integrated Watershed Management Programme: Two nos IWMP are going on successfully since 2012-13 in Ranibandh Block of Bankura District. The two watersheds cover 25 no. mouzas, most of which are backward with very difficult accessibility. The project is funded by the Ministry of Rural Development, Govt. of India and Deptt. of Agriculture, Govt. of West Bengal. The project consists of Natural Resource Management, Production System and Micro Enterprises, Livelihood Activities and importantly Capacity Building of Villagers. The total financial outlay so far in the two projects is 320.00 lakhs. Livelihood activities also cover training on Mushroom Production as well as Food Processing.
Cost effective methods of Jute retting to produce Golden Jute have been successfully implemented at Amdanga – North 24 Parganas District and Udaynaryanpur – Howrah District. The technology was transferred successfully.
With fund from the National Jute Board, Ministry of Textiles, Govt. of India and in collaboration with the University of Calcutta, an innovative project on Applications of Jute Geo Textile for the development of Barren and Tarr land n Purulia District was implemented in Chandanpur mouza of Purulia – 2 Block.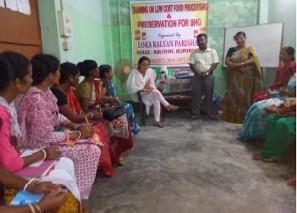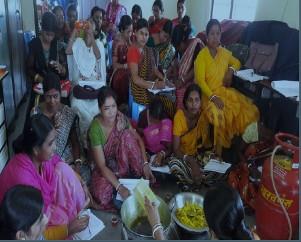 Training Workshops on Low-cost Food Preservation and Processing(22nd – 25th August, 2018 at Jhalda Block, Purulia)
COST-EFFECTIVECONSTRUCTION TECHNOLOGY
In close co-operation with HUDCO, FOSET initiated the Building Centre movement in West Bengal by setting up Building Centers at Birati, North 24-Parganas and Suri, Birbhum. It is successfully carrying promotional job of low-cost technology in rural/urban housing development of alternative building materials and imparting training to the masons. The Birati Building Centre has also been awarded KFW Grant assistance for building up infrastructure. HUDCO has conferred "Best Performance Award" to the Building Centre in 2000.